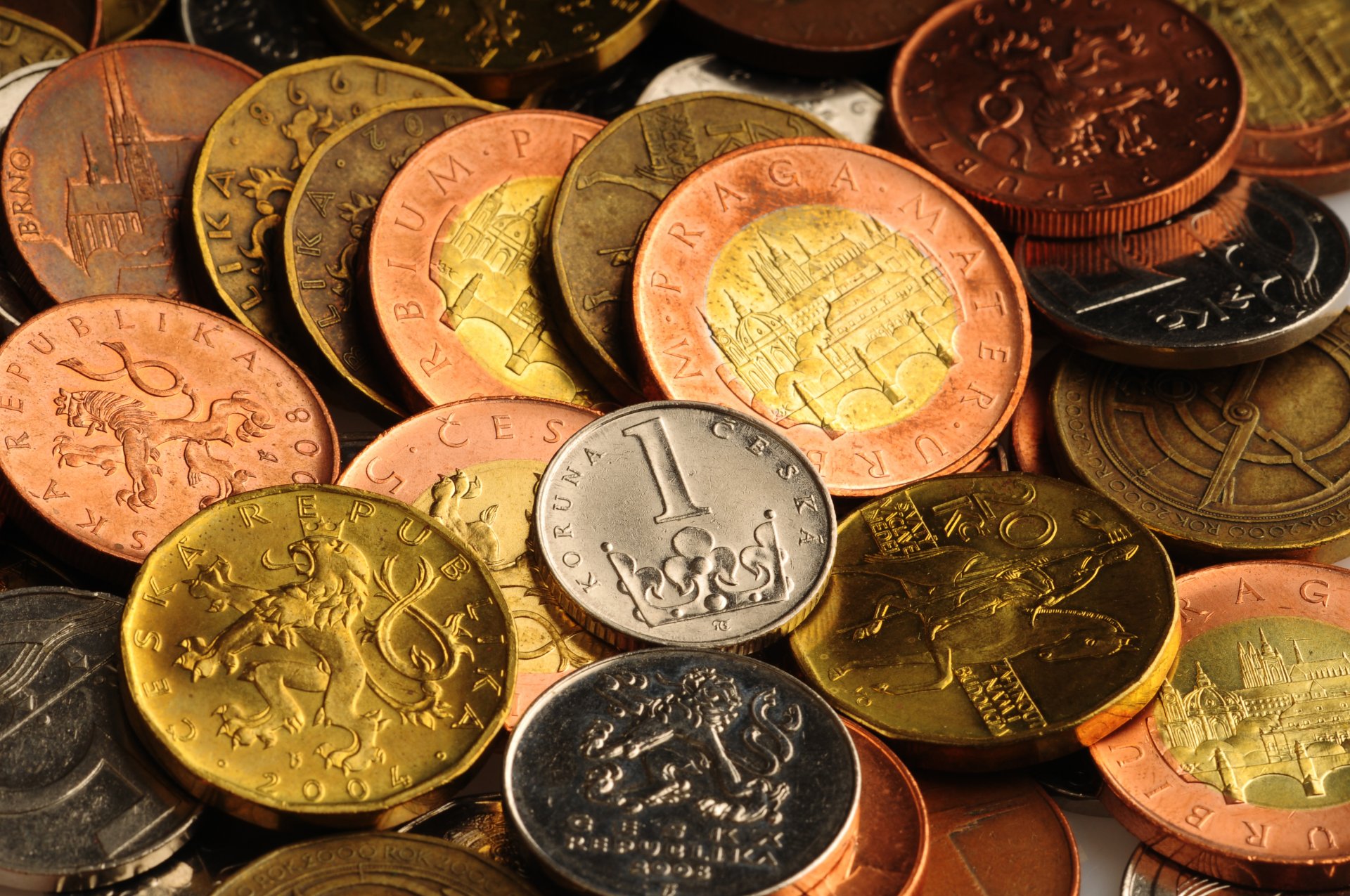 Banking
The Czech banking sector is unique in many respects. Most of the sector is dominated by strong European financial groups and its activities are primarily focused on the Czech Republic. 
Capital position
Czech banks remain well-capitalised despite the impressive growth they have shown over the past two decades, and the total level of capitalisation is well above all regulatory requirements. With capital adequacy above 24% (in 2020), Czech banks have maintained a solid position amid the COVID-19 pandemic, supported by a solid risk profile and limited dividend pay-outs.
Profitability
Czech banks are among the most profitable in Europe. With ROE above 11% in the past decade (and ROE of 7% in the pandemic year 2020 compared to the EU average of 4%), Czech banks have generated attractive returns for their shareholders in a global comparison. With net profit accounting for roughly 0.8% of GDP (2020), the Czech banking sector is among the most profitable when compared to the size of the Czech economy supported by the benign environment including a strong macro picture, prudent supervision and a friendly investment environment.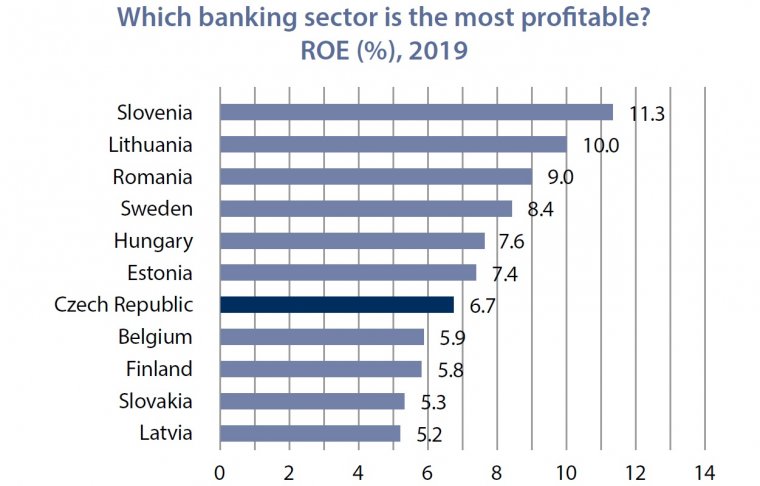 Source: ECB, 2022
Profitability has been under pressure during the COVID-19 pandemic, which translated into contraction of the economy in 2020. Nevertheless, Czech banks maintained a strong position without any need for state support and experienced a solid recovery in 2021.
After a decline in profit in 2020 (EUR 1.8 billion), a double digit increase of net profit is expected in 2021, reflecting the improving economy, lower risk provisions and an increasing interest-rate environment.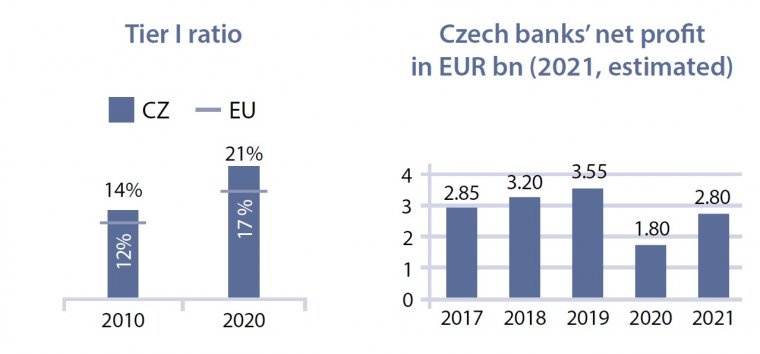 Source: ECB, 2022
Efficiency
With costs between 45% and 49% of income over the past ten years, Czech banks have been among the most cost-efficient globally. Cost to income remained below 50% even in 2020.
Apart from overall good cost control, banks benefit from economies of scale affected by high market concentration (roughly two-thirds of total assets are in the hands of the five biggest players).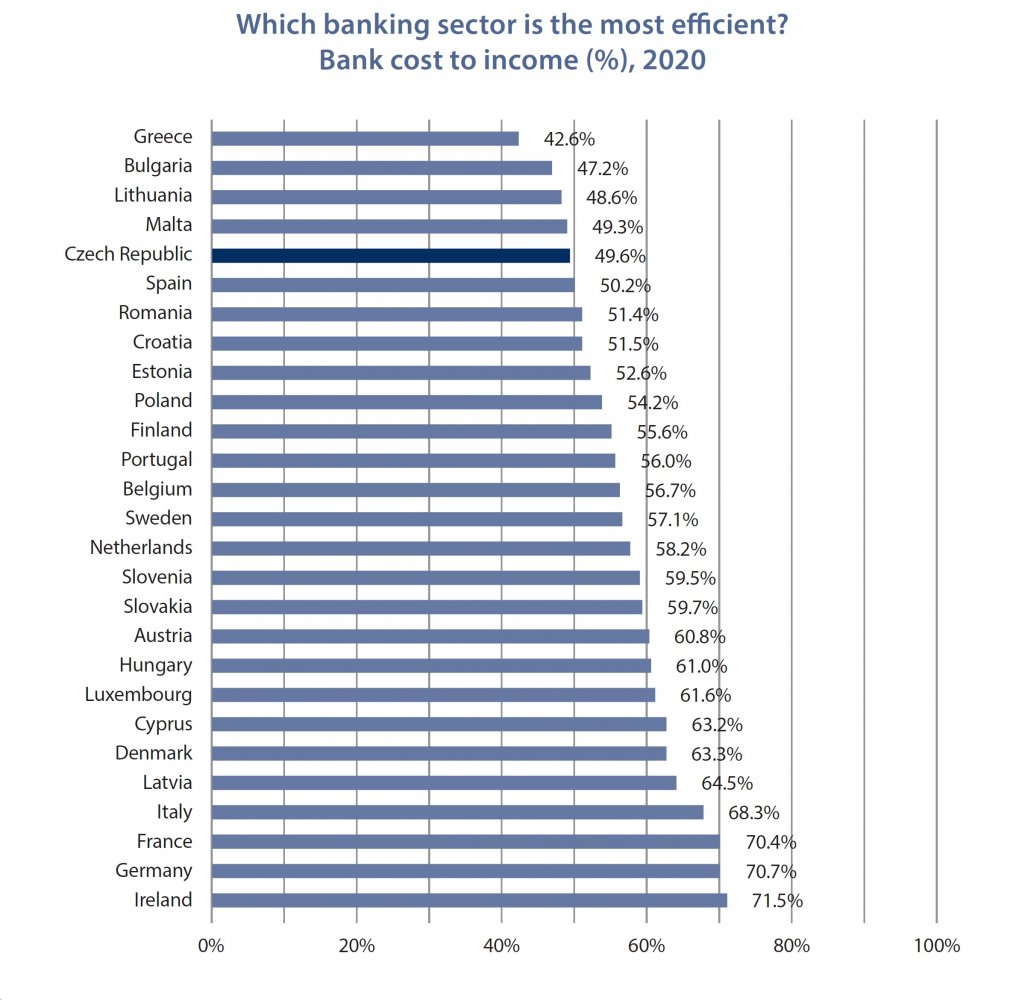 Source: ECB, 2022
Asset quality
Asset quality slightly deteriorated in 2021, which was a reflection of the COVID-19 pandemic. The share of nonperforming loans remained fairly low at around 2.5% in the course of 2021.
The currency split of loans in the Czech banking sector shows that if any foreign currency lending exists, it is mostly denominated in EUR and predominantly in the corporate segment.
Opportunities
Further loan growth can be anticipated, as penetration still lags behind developed Europe; compared to other EU countries, the Czech market is still underpenetrated in both loans to households and corporate loans. In other words, the convergence story continues and there is still significant room to grow faster than the EU.    
Czech banks have a comfortable level of deposits and can benefit from a relatively cheap cost of funding as a source for future loan growth.
Given the high capital base and cheap funding, the banking sector is well prepared to support further growth and strong demand for lending.
As households are becoming richer (e.g. nominal wages increased by 3.1% in 2020), banks can further support wealth growth by offering fee-generating products such as investment funds, life insurance and products in the pension area. This will bring prosperity to both the banks and their customers. The main risk remains uncertainty about future development with respect to the COVID-19 pandemic.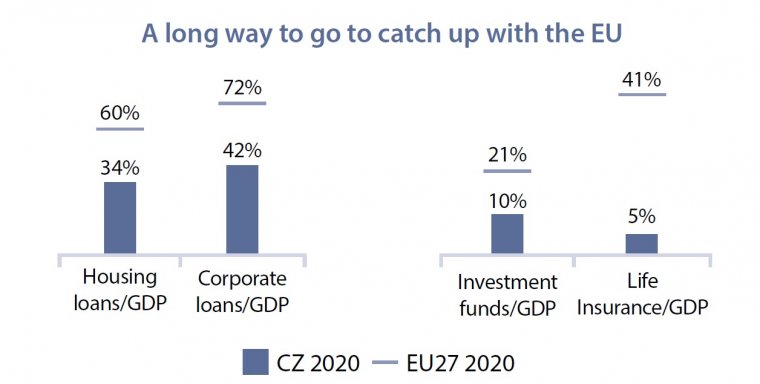 Source: Eurostat, 2022
Pavel Marek
Head of 
Accounting, Controlling and IR
Česká
spořitelna